Adrian Lee & Partners is an independent, employee-owned asset manager that specialises in research-led currency and global asset management for institutional investors.
WHO WE ARE
ARCHITECTS OF ACTIVE CURRENCY MANAGEMENT FOR INSTITUTIONAL INVESTORS
Adrian Lee & Partners is an independent, employee-owned asset manager that specializes in research-led currency and global asset management.

Founding partners pioneered active currency management in 1989 at J. P. Morgan Investment Management
Adrian Lee & Partners was founded in 1999 to focus exclusively on active currency management
Team of 29 with an average of 18 years of experience in currency management
Manage approximately $17 billion at an average 2% active risk, with offices in London and Dublin for clients in the US, Europe and Australia
All currency overlay clients have separate accounts with a range of guidelines and risk management objectives. One process, one team
Over 30 years of positive performance

OUR DEFINING CHARACTERISTICS
Dedicated active currency and global asset management specialist for institutional investors, free from conflict issues
Long-term institutional global client relationships (on average 7 years+)
Quantitative fundamental research with a disciplined methodology
PHILOSOPHY AND APPROACH
OUR INVESTMENT PHILOSOPHY RELIES ON 3 PREMISES
Fundamental economic factors determine currency equilibrium over time

Research-driven valuation analysis identifies departures from this equilibrium

Experienced investment management can exploit these deviations to add return over time
OUR APPROACH
THE OPPORTUNITY
Currency markets are different from asset markets in many important ways.They exist for different reasons, have a heterogeneous set of players with different information sets and objectives.This lack of homogeneity, coupled with a natural tendency towards globalisation, creates an opportunity for active management seen in no other asset class.

RESEARCH-DRIVEN PROCESS
Quantitative research with a disciplined methodology is the key to capturing opportunities in the currency market:

Our process uses only proven, repeatable signals
Our investment research has been ongoing and successfully applied in practice since 1989
The research has identified specific fundamental factors that add value in a similar way across the major currencies
Each factor is theoretically logical and separate and when applied in a linear framework generates a high and stable information ratio
Significantly, each factor works in a similar way across developed and emerging market currencies
OUR DIFFERENTIATOR
While a quantitative research driven model defines our approach and captures alpha in a disciplined and unemotional way, what differentiates us from other approaches is our 3rd Alpha Centre. We look forward into the future by actively forecasting fundamentals daily. This forecasting activity is NOT an override of the model or a supervisor of the model; it is a truly separate and independent source of return.
OUR PROCESS
Our active investment process is implemented through the three separate and diversified "Alpha Centres".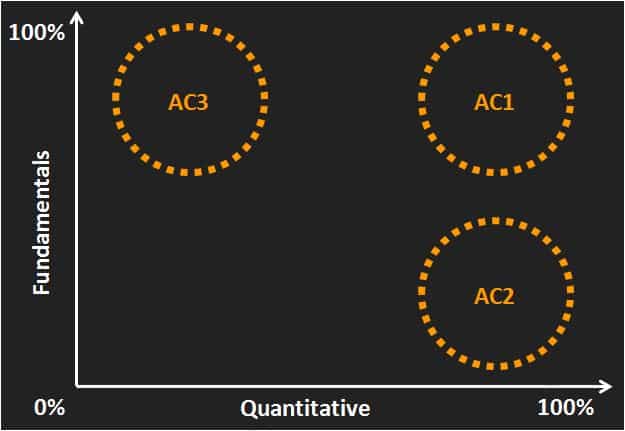 Observed differences in today's fundamentals (e.g. favour higher yielding currencies)
Observed recent trends in currency (e.g. favour a currency that has appreciated)
Active forecasting of future fundamentals
WHAT WE DO
CURRENCY PRODUCTS
We offer a range of currency management solutions that reduce currency risk and enhance portfolio returns.
GLOBAL MACRO ALPHA STRATEGY
The Global Macro Alpha strategy utilizes Adrian Lee & Partners' proven fundamental quantitative investment process to maximize return separately and independently across the three universes of:
Maximize currency surprise
We believe that Global Macro investments should be separately managed as three portfolios; Global Equity, Global Fixed Income and Currencies. Our investment process focuses separately on maximising expected hedged returns and currency surprise, using a blend of relative value and directional signals.
The three processes combine to form a Global Macro portfolio diversified by asset class, region and source of alpha.
CAREERS
Join our team
– Quantitative Research
– Portfolio Management
– Economics
– Trading
– Software Development
– Compliance and Risk
– Corporate

Email your CV to [email protected]
WHY ADRIAN LEE & PARTNERS?
As a leading active currency management firm with a growing institutional client base, Adrian Lee & Partners is always seeking remarkable people to join our team.
We attract the best talent in the investment management industry by offering an opportunity to join a:
– 100% employee-owned specialized active currency management firm
– Investment specialist culture
– Career growth opportunity
– Collegial environment
CONTACT
Smithson Plaza
25 St James's Street
London SW1A 1HA
UK
+44 207 427 6960
[email protected]


DUBLIN, IRELAND
West Pier Business Campus
Dun Laoghaire
Co. Dublin
Ireland
+353 1 6318 500
[email protected]